Portuguese gambling association APAJO endorses EGBA's European code of conduct on responsible advertising
25.06.2020
Portuguese online gambling association endorses EGBA's pan-European code of conduct on responsible advertising.
BRUSSELS/LISBON, 25 JUNE 2020 – The Portuguese association for online betting and gambling (APAJO) has today officially endorsed EGBA's European code of conduct on responsible advertising for online gambling, becoming the fifth national gambling association[1] to endorse the code. APAJO will now promote the code to its members and other online gambling companies in Portugal and encourage them to sign up to it.
EGBA's code is the first pan-European initiative for online gambling advertising and leads the way in responsible standards for advertising. The code introduces essential consumer protection measures for responsible advertising content, social media and dedicated measures for minor protection. The code applies to EGBA members, other EU/EEA-based online gambling companies who sign up to it, and its application will be monitored by an independent third party. A recent analysis found the code to complement and reinforce the existing regulation of gambling advertising in European countries and, in several countries, the code's measures are stricter than existing national rules.
Anne-Marie Furtschegger, Secretary General, APAJO:
"APAJO members believe in the highest standards in responsible advertising and already apply these in Portugal through our commitment to the Portuguese gambling regulator's own advertising code. We support EGBA's responsible advertising code because common solutions are additionally needed to the many cross-border issues affecting the online gambling sector, such as advertising, data protection, and the fight against money laundering. That's why EGBA's pan-European advertising code is so important. The code will raise responsible standards for gambling advertising across many European countries, particularly in those countries where national rules fall short." 
Maarten Haijer, Secretary General, EGBA:
"We're pleased with APAJO's endorsement and its continued commitment to promote responsible gambling advertising in Portugal. Advertising is essential to inform consumers about those companies which are licensed and regulated in their country, but it is also how the sector is visible to the outside world and needs to be responsible. The responsible advertising code is part of EGBA's commitment to raise standards and make gambling even safer across all European countries. We urge other online gambling associations and companies to join us to make this objective a reality."
About APAJO
The Associacao Portuguesa de Apostas e Jogos Online (Portuguese Online Betting and Gaming Association – APAJO) was founded back in 2018 with the overall aim to continuously help improve the legal framework for online betting and gambling in Portugal, to make it sustainable for local and international operators, to accompany new developments and trends and to keep betting and gambling entirely safe for all stakeholders: industry, sports and customers. Further info about members can be found here: https://apajo.pt
[1] APAJO joins the national gambling associations in Belgium, Denmark, The Netherlands and Norway in endorsing EGBA's code.
-ENDS-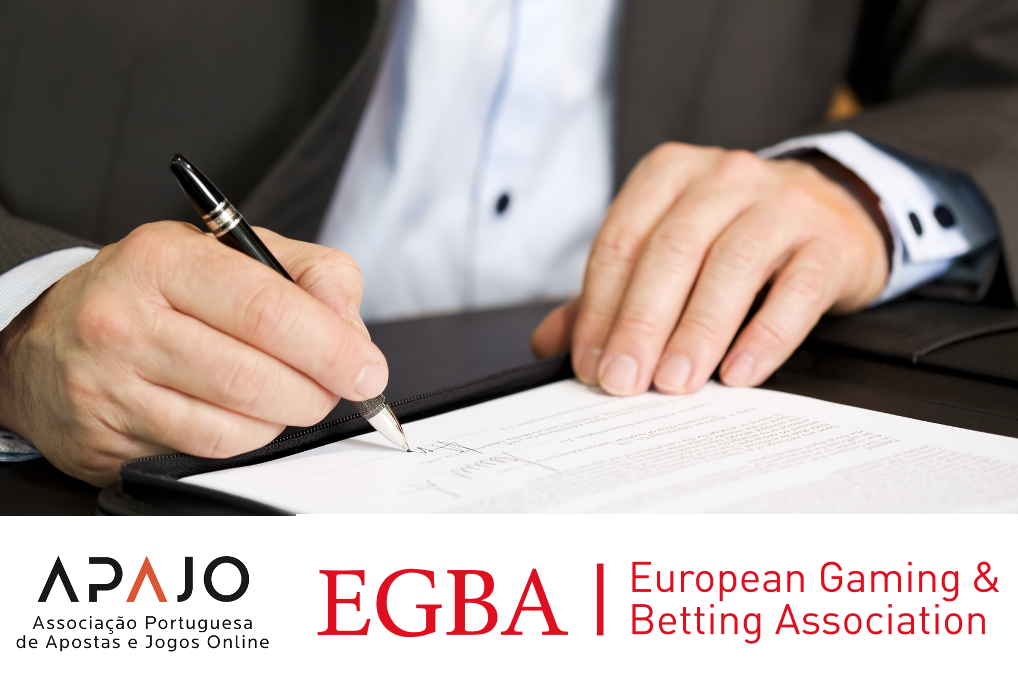 About EGBA
The European Gaming and Betting Association (EGBA) is the Brussels-based trade association representing the leading online gaming and betting operators established, licensed and regulated within the EU, including bet365, Betsson Group, GVC Holdings PLC, Kindred Group PLC, and William Hill PLC. The Swedish Trade Association for Online Gambling (BOS) is an affiliate member of EGBA. EGBA works together with national and EU authorities and other stakeholders towards a well-regulated online gambling market which provides a high level of consumer protection and takes into account the reality of the digital economy and consumer demand. Today, EGBA's member companies together have more than 16.5 million customers in Europe.