Five Things You Need to Know About European Safer Gambling Week
10.11.2023
The European Safer Gambling Week (ESGW) is nearly upon us. Taking place between 13-19 November, it is an annual initiative coordinated by the European Gaming and Betting Association (EGBA) to raise awareness about safer gambling across Europe. During the week, there will be a range of events, activities, and a social media campaign taking place across Europe. This is the third edition, and I am pleased to share with you five important things you need to know about the initiative.
1. ESGW is an industry-led awareness initiative
ESGW is a collaborative responsibility effort by EGBA, its members, other operators, as well as national associations. It is a dedicated week where the European industry comes together to increase the information shared with customers to help them play safely and promote safer practices. This year, there are 18 associations supporting the initiative, along with many operators and some national authorities.
2. The priority is to promote safer gambling to customers
During the week, operators across Europe will communicate with their customers, sharing practical advice, tips, and messages, and signposting the resources and support resources available, such as tools and helplines, that can help customers stay in better control of their gambling.
3. There will be a many free events taking place across Europe
The week offers a platform to discuss the latest safer gambling initiatives, regulations, and research, and have open and honest conversations about these topics. There will be a variety of free-to-attend events happening across Europe, where stakeholders can gain insights, learn about best practices, and find out more about recent developments in safer gambling. The agenda of events can be found here. Last year, we had events and activities across 17 European countries, and we hope to increase that number this year!
4. A social media campaign is happening – and you can participate too
The initiative also provides an opportunity for other industry stakeholders to join EGBA and our members in in promoting safer gambling. During the week, stakeholders can participate in the social media campaign to share safety messages with their customers and audiences. We have developed translated social media graphics for many countries to support this effort. Please contact us if you wish to be involved.
5. There is also the possibility to join the discussions online
You can join in the ESGW discussions by following us on Twitter (@EUgambling) and LinkedIn (European Gaming and Betting Association) and using the hashtag #ESGW23.
Finally, we aim to strengthen this initiative each year and solidify the week as an important agenda item for the sector. While the initiative focuses on a dedicated week of events and activities to raise awareness about safer gambling, we and our members are committed to promoting safer play every day of the year.
Join us during the ESGW discussions, follow our social media channels, and be part of the movement to promote a safe and sustainable sector. Together, we can make a difference!
If you're interested in supporting the ESGW or participating in the social media campaign, please contact us. Let's work together to raise awareness about safer gambling and promote a responsible gaming environment for all.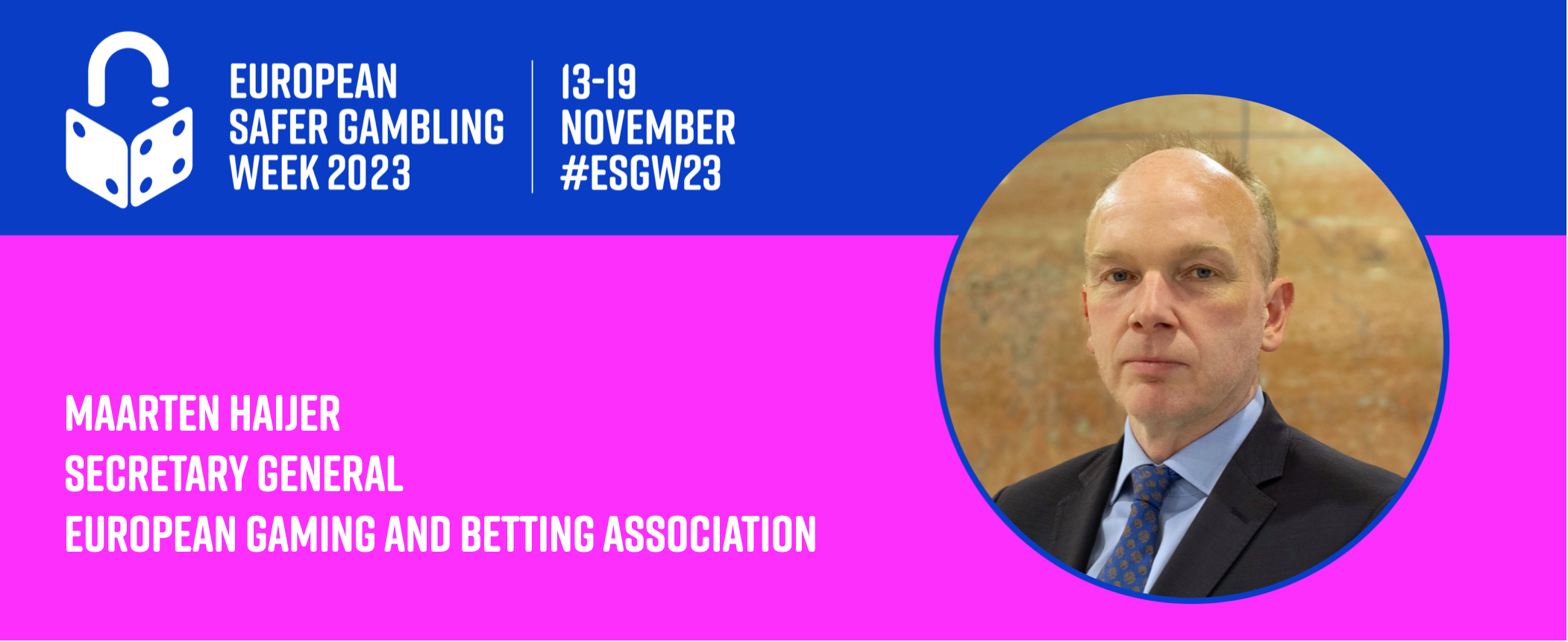 For more information about European Safer Gambling Week, please visit here.
---
About EGBA
The European Gaming and Betting Association (EGBA) is the Brussels-based trade association representing the leading online gambling operators established, licensed, and regulated within the EU, including bet365, Betsson Group, Entain, Flutter, Kindred Group, and 888 William Hill. EGBA works together with national and EU authorities and other stakeholders towards a well-regulated and well-channelled online gambling market which provides a high level of consumer protection and takes account of the realities of the internet and online consumer demand. EGBA member companies meet rigorous regulatory standards and collectively have 267 online gambling licenses, serving 31.2 million customers, across 22 different European countries. They represent approximately one-third of Europe's online gambling gross gaming revenue (GGR).