EVENT: 2020 US Presidential Election: Who's Going To Win & What's At Stake For EU-US Relations?
13.10.2020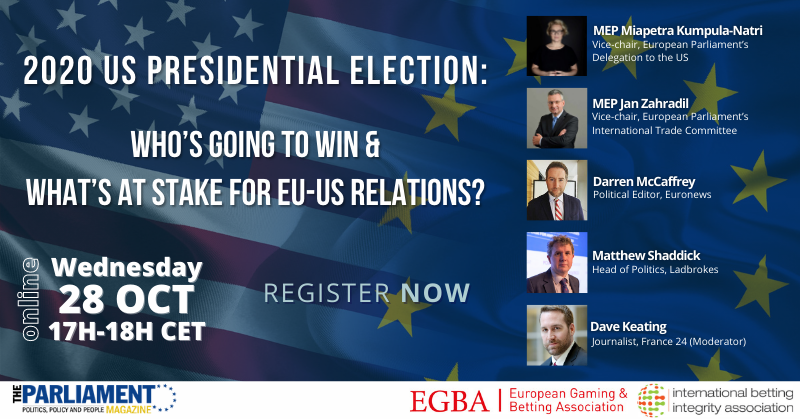 ***** THE BELOW EVENT HAS FINISHED BUT YOU CAN WATCH THE RECORDING HERE *****
The US is at a cross-roads. In two weeks' time voters will go to the polls to elect the next US President, amid the backdrop of a damaging global pandemic and an increasingly divided domestic political scene. The future of the US itself seems to be at stake.
Yet the outcome of the election is far from certain. As the speculation mounts and election day approaches, many key questions remain unanswered. Who's ahead in the battleground states? Has COVID-19 irrevocably damaged Trump's chances? Can we trust the polls? What's at stake for EU-US relations?
To make sense of it all, The Parliament Magazine, along with EGBA and IBIA, invite you to join us for a lively webinar debate where you will have a chance to listen to a panel of leading politicians, journalists and betting experts discuss this crucial vote, who they think is going to win and what's at stake for EU-US relations.
When: Wednesday 28 October 2020, 17.00-18.00 CET
–  Agenda –  
17:00 | Welcome by Moderator
17:00-17:15 | Who's going to win the 2020 US Presidential election?
17:15-17:45 | How will the outcome of the US Presidential election impact the EU and the future direction of EU-US relations?
17:45-18:00 | Q&A with the audience
There will be interactive voting and your chance to ask the experts your questions.