Analysis: Multi-licensing has become Europe's preferred online gambling regulation, but few monopolies remain
12.05.2021
A new analysis by EGBA has found that 25 out of 29 European countries have introduced a multi-licensing model for regulating online gambling but a few monopolies still remain.
Regulation of online gambling has developed rapidly in Europe. Until ten years ago most European countries had either no dedicated regulations for online gambling or only state-owned online gambling monopolies were permitted.[1] But today the situation has changed dramatically. The multi-licensing model – which allows both private and publicly owned companies to obtain a license to offer online gambling in a country – has become Europe's clear and preferred basis for regulating online gambling.
A new analysis[2] by EGBA has found that:
Multi-licensing has been adopted in 25 out of 29 European countries, with 21 countries having introduced full multi-licensing for all regulated online gambling products.

[3]

4 European countries have a mixed licensing system with a monopoly for either sports betting (Hungary and Slovenia) or casino gaming and poker (Austria and Poland) and multi-licensing for all other online gambling products.
Finland and Norway are the only countries which still retain an exclusive state-owned monopoly for all online gambling.
Ireland is expected to introduce multi-licensing for online gambling in 2021/22.
Cyprus (casino gaming and poker) and France (casino gaming) both impose product prohibitions in online gambling.
Germany allows online casino gaming, but at the discretion of the respective Länder. It is intended that the provision of virtual slots would be allowed for private operators from 1st July 2021.
Luxembourg currently has no specific licensing regulations for online gambling.
"It's encouraging that the majority of European countries have now moved towards multi-licensing regulation for all online gambling products in recognition that it is by far the most effective model for regulating online gambling. Despite this progress, it's notable that some countries, particularly Finland and Norway, are still very much out of step with the rest of Europe and continue to cling to outdated online gambling monopolies. Evidence shows us that online gambling monopolies are ineffective and, by narrowing consumer choice, they make unlicensed websites more attractive. Unlike monopolies, the benefits of full multi-licensing are very clear: better protection for consumers, more tax revenues for the state, and better control for regulators over their online gambling markets. The majority of European countries have already realised this – when will the others?" – Maarten Haijer, Secretary General, European Gaming and Betting Association (EGBA).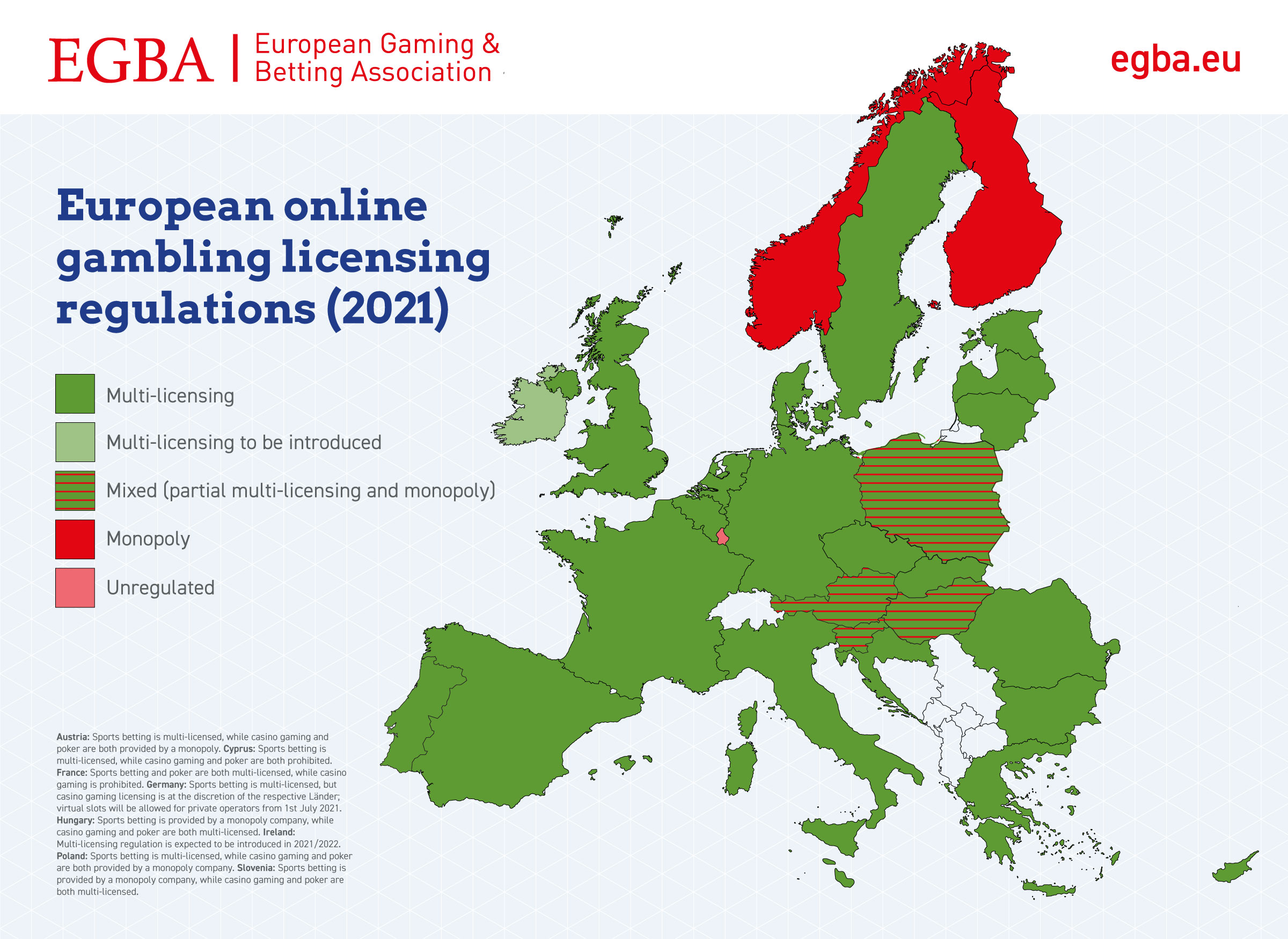 ---
[1] In 2009, only 7 countries (Croatia, Czech Republic, Estonia, Italy, Latvia, Malta, UK) had a multi-licensing regulation for online gambling.
[2] An analysis of 29 European countries where EGBA has knowledge of the online gambling licensing regulations pertaining to the provision of sports betting, casino gaming, poker, and bingo products only. This analysis is for informational purposes only and its contents are provided on the basis of availability. EGBA does not accept any liability for any information which is incorrect, incomplete and/or out of date. The results of the analysis and accompanying overview map neither implies the EGBA's endorsement of the respective national regulations nor that the regulations are in conformity with EU law.
[3] Sports betting, casino gaming, poker, and bingo products only.
---
About the European Gaming and Betting Association (EGBA)
The European Gaming and Betting Association (EGBA) is the Brussels-based trade association representing the leading online gaming and betting operators established, licensed and regulated within the EU, including bet365, Betsson Group, Entain, Flutter, Kindred Group, and William Hill. EGBA works together with national and EU regulatory authorities and other stakeholders towards a well-regulated and well-channelled online gambling market which provides a high level of consumer protection and takes into account the realities of the internet and online consumer demand. EGBA member companies meet the highest regulatory standards and, in 2020, had 234 online gambling licenses to provide their services to 29 million customers across 19 different European countries. Currently, EGBA members account for 36% of Europe's online gambling gross gaming revenue (GGR).